2003
Arthur Brown Electric Band (Arthur, Stan Adler - Bass, Chris Bryant Guitar, Malcolm Mortomer - Drums ??? - Keyboards)

Febuary 2nd London Marquee (Supporting Ozric Tentacles) (Video Exists) See a Video Clip (6 mb Real Video)
Acoustic Trio - (Arthur Brown , Nick Pynn and Chris Bryant)

May 4th Wellington Shropshire Borderline
May 10th Hitchin Club 85 74 Whinbush Rd Hitchin Herts SG51PZ
HAWKWIND SPRING 2003 MINI-TOUR Arthur Brown Guest Vocalist for appx 1/2 the Set
May 18th 2003 CAMBRIDGE - The Junction
May 19th 2003 NOTTINGHAM - Rock City Support: Ozric Tentacles Photo's (by Vincent) PHOTO A PHOTO B Photos By Dave Easthope PHOTOC PHOTOD : PHOTOE : PHOTOF : PHOTOG : PHOTOH : PHOTOI : PHOTOJ

May 25th 2003 - London Olympia Recor Dair - Arthur Makes PS POSTER 300k jpeg
May 25th 2003 LONDON - Astoria Theatre Support: Doctor & The Medics
May 26th 2003 BRISTOL - Academy - Video Clip Time Captians Real Media 560kb Masters Of the Unviverse Real Media 867kb Back Stage Passes
May 27th 2003 BIRMINGHAM - Academy Photos By Dave Easthope Photo A PhotoB PhotoC
Acoustic Trio (Nick Pynn, Chris Bryant & Arthur)
May 30th International Arts Centre Leicester Supported by Maureen Anderson Photos by Chris Conway PHOTOA : PHOTOB : PHOTOC : PHOTOD : PHOTOE : PHOTOF: PHOTOG : PHOTOH :
June 14th Adur festival near Worthing Sussex UK Festival Marquee, Shoreham Beach Green Saturday
Hawkwind
21st June - Newquay Cornwall Private Show for a Fans Wedding
June 24th - Belgium Supporting The Pretty Things
June 26th Olympia Paris, France Supporting The Pretty Things
June 29th Avalon stage Glastonbury Festival BBC Coverage Feature Chris was on hiliday in Spain had to fly back to the UK, do the gig then Fly back to the Holiday, What a Rock Star!!!!!

Arthur, Nick and Rick Patten (Chris on holiday)
July 4th Guildford Festival (Gilfest) main stage with Arthur Lee and Alice Cooper Guildford Page

Arthur, Nick and Chris
July 11th - Southsea - The South Parade Pier
Arthur Solo
July 12th Cameo appearance at Charleston Farmhouse in Sussex

Hawkwind

In the summer of 2003 Arthur presented 4 Episodes of the Freak Zone on BBC 6 Music standing in for his pal Bruce Dickenson

August 8th - 10th Hawkfest on the 8th Hrthur did a solo set with the band Instant Flight as his backing Band on the 9th Arthur did a set with Hawkwind.
August 16th - Germany Festival this show was CANCELLED

Arthur, Rick + Percussionist
August 23rd London Kingston The Grey Horse (Video Exists) Photos by Dave Easthope A B C D E F G H I J K L M N

Arthur Nick and Chris
September 13th Canuelo Fesatival in Andalucia Spain

Arthur Brown

October 2nd Vampire Suite Launch Party
Arthur, Nick and Chris Billed as 'Arthur Brown & his Giant Pocket Orchestra'

October 10th - Vampire Suite album launch info here

October 20th Blue Coconut Pulborough W. Sussex

November 8th - Rye Fawks Night
Well on the 8th November it was 'Rye Fawkes' night in the town of Rye, Arthur was guest of honour at the Rye town bonfire celebrations. He was paraded through the town in a chair carried by 6 firemen &l then lit the bonfire. This was be followed by a massive firework display. Thanks to Nigel Hay for the info and photo.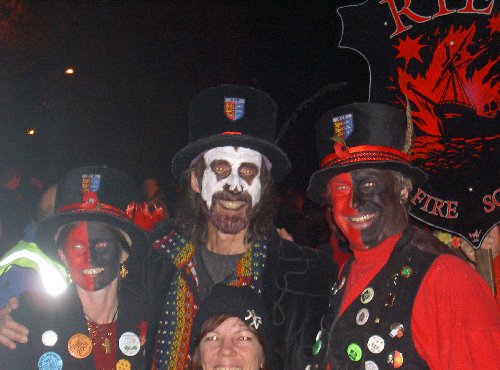 November 13th Komedia Theatre Brighton
Hawkwind
October 25th - Exeter Phoenix Arts Centre - Right Arthur DID NOT peform at this gig, though for some reason the local paper Exeter Express and Exho still put a photo of Arthur on their feature so Here it is (Thanks to John Allegri)

Arthur, Nick and Chris Billed as 'Arthur Brown & his Giant Pocket Orchestra'
18th December - Southampton The Joiners Promoted by www.cddkmusik.com with Support from Careless & Spyderbaby Review HERE Scan of the Flyer Here
May 26th 2003, Bristol, Arthur Brown and Hawkwind
May 26th 2003, Arthur Brown and Hawkwind

more..